Size Chart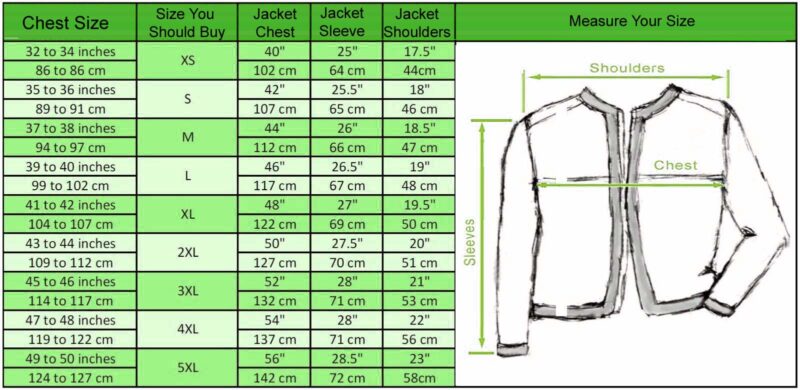 Leonardo DiCaprio Jacket
Specifications:
* Material: 100% Real Leather
* Lining: Viscose Lining
* Collar: Lapel Style Collar
* Pockets: Two outside and two inside pockets
* Color: Distressed Brown
* Closure: Button closure
High quality grade A genuine leather is used to make this leonardo dicaprio jacket. It is double stitched for durability. There are 2 internal and 2 zippered pockets on the exterior. Zipper in the main body. Satin + polyester lining. Please read our return policy for further details. If you are not satisfied with the jacket, you can return it within 30 days of receiving it.
Raw Materials of the Highest Quality
When it comes to our jackets, we won't compromise on anything less than an extraordinary product. We only use high quality materials in our jackets, including YKK zippers, polyester lining, and full grain natural leather.
Exceptional craftsmanship
It is different from the mass-produced chains, where each product is handcrafted one by one by an expert craftsman. In spite of our stitching, which is not as cheap as chain production, we don't use chain production.
Directly to you – the best prices
Compared with luxury brands, we sell our products directly to consumers at a 1/5th of what they charge. Keeping storefront costs and middlemen low, as well as inefficient marketing costs, helps us to keep prices low. Additionally, the production is just-in-time.
Everybody can find the right size with us
Although it is a buzzword, inclusivity is important to us. Our leather jackets are recognized as an electrifying experience, and we ensure that no one does not miss out. Across our entire jacket line, eight standard sizes are available from S to 5XL.
Expression & Discovery
Diversity and diverse expressions form the foundation of our identity. Customers can work with our design consultants to create fully customized, bespoke jackets. Our diversity allows us to foster customer expression and ensure our customers stand out.
Leonardo DiCaprio Jacket Return/Exchange Policy
A full refund is available for most unopened, new orders within 30 days of delivery. We'll pay the shipping costs for returns that are the result of our error (the wrong item was shipped, etc.). After we Once we receive your returned order, we will process your refund within 3 to 5 business days. The shipping/returns page contains more information about shipping and returns.