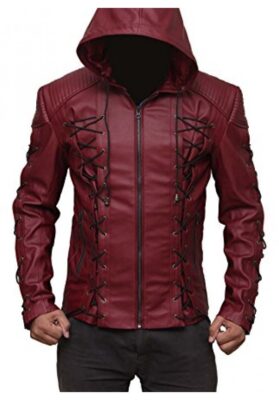 ARSENAL RED HOODED LEATHER JACKET
Introducing the Arsenal Red Hooded Leather Jacket made from leather and is the same inspired from the T.V series worn by Colton Haynes. It is a screen accurate design of the original costume.
The Arrow Red Jacket is externally made out of PU Leather while viscose lining is stitched inside to keep the body comfortable. Stylish lace feature is done on both sleeves and also at the front. Some lines are made on shoulders too. Furthermore, this apparel has a hood, similar to the movie attire.
Specification:
Screen Accurate Design
External: PU Leather
Internal: Viscose Lining
Front: Zip Closure
Pockets: Two Waist Zip Pockets and Two Inside Pockets
Size Chart