Size Chart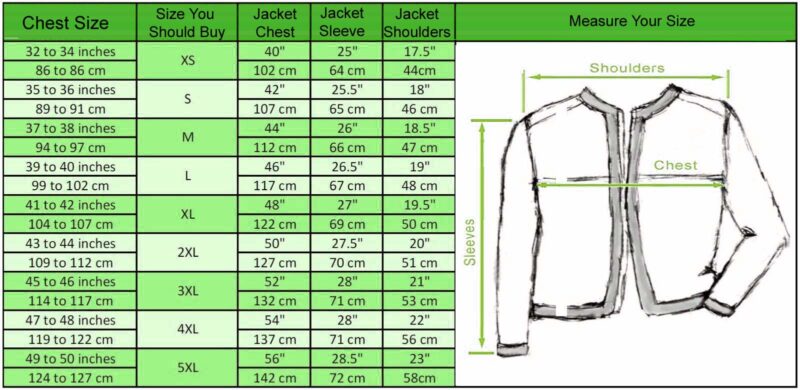 Indiana Jones Jacket
Specifications:
Indiana Jones Jacket Grade A Genuine Leather Jacket
Viscose Lining Stitched Inside
2 Outside pockets and 2 inside pockets
Sleeves: Full-length sleeves.
Front: Stylish buttoned and zipper front closure.
Dry Clean Only
Description:
This indiana jones jacket is made with high quality Grade A Genuine Leather with double stitching for durability. Satin + Polyester lining. 2 Outside pockets and 2 inside pockets. Pockets are sewn within this leather jacket to keep your material safe. Its made of genuine leather with an inner viscose lining. We take deep pride in jacket if you are not satisfied you can return the within 30 days of receiving the jacket, please read the return policy for further details. Wear an indiana jones leather jacket that is artistically crafted with amazing construction and has a special design. The jacket is made with leather material. The interior of the jacket is lined with a comfortable material in order for the wearer to be calm when carrying it. A branded Raiders of the Lost Ark jacket combines two types of fastenings on the front, zipper and buttons, along with a shirt collar, that further enhances the appeal of this fashionable attire. This jacket features full-length sleeves that are properly complemented with open hem cuffs, and taken together they help make the dress appear elegant. It comes with two pockets, with one on each side about the waist with plenty of room for accessories. A belt is also attached to the jacket at the side to adjust the waist size. It completes this stylish apparel. Harrison Ford wears a perfect jacket, an ideal outfit for trend-setters.
Indiana Jones Jacket Return/Exchange Policy
You may return most new, unopened orders within 30 days of delivery for a full refund. We'll also pay the return shipping costs if the return is a result of our error (you received an incorrect or defective order, etc.). We authorise your refund within 3 to 5 working days of us receiving your order back. For more details about shipping and return policy please visit shipping/returns page.
Indiana Jones Leather Jacket Review
Wearing this legendary attire, now you will have a life you can take inspiration from the famed Indiana Jones Jacket. This is an expression of Harrison Ford as shown in the Indiana Jones film Raiders of the Lost Ark. Though it may appear awesome on Harrison Ford, there is no harm trying his style at home, as Flesh jacket made sure to capture it for the best price.
The Harrison Ford Men's Brown Leather Jacket is made of leather (100%) in the finest quality. Wear it in the casual or semi-casual segments. It appears to be more formal than an everyday dress. Winter is also the perfect time to wear it. Don't wait; buy it, and get the perfect look of the character.