Size Chart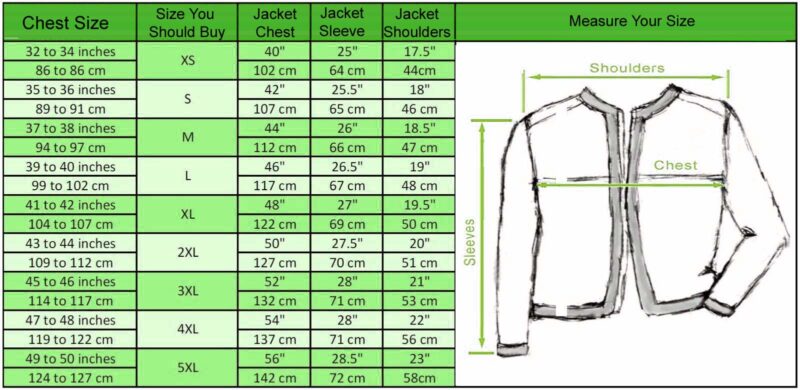 Harley Davidson and the Marlboro Man Jacket
Specifications:
Harley and Marlboro Man Jacket Grade A Leather Jacket
Viscose Lining Stitched Inside
2 Outside Pockets and 2 Inside Pockets
Spread Collar
Black
Dry Clean Only
Description:
This harley davidson and the marlboro man jacket is made with high quality Grade A Leather with double stitching for durability. Satin + polyester lining. We take deep pride in Harley jacket if you are not satisfied you can return the jacket within 30 days of receiving the jacket, please read the return policy for further details.
Harley Davidson and the Marlboro Man Jacket Return/Exchange Policy
You may return most new, unopened orders within 30 days of delivery for a full refund. We'll also pay the return shipping costs if the return is a result of our error (you received an incorrect or defective order, etc.). We authorise your refund within 3 to 5 working days of us receiving your order back. For more details about shipping and return policy please visit shipping/returns page.
Mickey Rourke Harley Davidson and The Marlboro Man Motorcycle Leather Jacket
The Marlboro Man Jacket is made from Genuine leather or Faux leather. The combination of orange and black gives the outfit its outstanding look. The high quality zip provides the frontal opening. A stand up collar sets you apart. The Harley Davidson Marlboro Man Jacket has long sleeves and flap pockets on the left sleeve. The garment features a button closure along the hem, with "Harley Davidson" imprinted around the waist line. The jacket's cuffs are zippered as well.
The Mickey Rourke Harley Davidson leather jacket which first appeared in the Hollywood film Harley Davidson and The Marlboro Man (1991) and duly enchanted the audiences at the first sight was hot on the market. We carry an exact replica of the Marlboro Man Leather Jacket seen in the Movie. It is world-class stitched and will bring your image to a skyscraping altitude. A Harley Davidson Marlboro Man Jacket enhanced with stylish logos and depictions will enhance your appearance. The jacket features a YKK zip, snap-button closure at the collar and waistband, pockets on the sleeves for holding smoke, and dual white and yellow straps out back. Don't let this cape escape your grasp!