Size Chart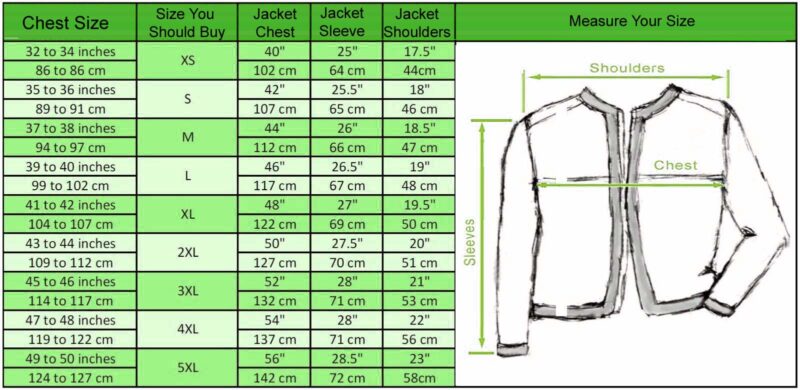 Soldier 76 Jacket – Mens OverWatch's Soldier 76 Biker Leather Jacket
Specifications:
Grade A Leather Jacket
Viscose Lining Stitched Inside
2 Outside pockets and 2 inside pockets
Dry Clean Only
Description:
This soldier 76 jacket is made with high quality Grade A Leather with double stitching for durability. Satin + polyester lining. Pockets are sewn within this leather jacket to keep your material safe. Its made of genuine leather with an inner viscose lining. We take deep pride in jacket if you are not satisfied you can return the within 30 days of receiving the jacket, please read the return policy for further details.
Soldier 76 Jacket Return/Exchange Policy
You may return most new, unopened orders within 30 days of delivery for a full refund. We'll also pay the return shipping costs if the return is a result of our error (you received an incorrect or defective order, etc.). We authorise your refund within 3 to 5 working days of us receiving your order back. For more details about shipping and return policy please visit shipping/returns page.
Overwatch Video Game Biker Cosplay Soldier 76 Leather Jacket
Designed in the vintage style, the Soldier 76 Jacket has the color combination of white in combination with blue, black and red. Different shades have given it a mesmerizing effect. Exterior covers are either made from genuine leather or faux leather based upon quality. Additionally, the Overwatch soldier 76 cosplay jacket is available in either dark blue color or blue color. A front closure with a zip allows for an effortless wearing experience. The stand-up collar is elegantly styled with a buckle strap. Soldier 76 Leather Jacket features blue and red stripes. The collar is enclosed by the buckle. Grey straps are stitched on both shoulders. The long sleeves are cuffed with snap tab buttons.
Handcrafted Jacket For Men
A Fallout 76 Jacket is an eye-catching, attention-grabbing item of clothing that looks great when paired with jeans and a t-shirt. Throughout the winter, use its versatile design and exceptional quality in a way that enhances your looks, including it's refreshing blue color, which soothes the eyes. An iconic Fallout 76 logo, displayed on the back, makes this article an ideal article of clothing for gamers. You would be able to start a great conversation with all the Fallout fans with this wardrobe item, that also adds a touch of cool to your outfit. Ribbed details lend a distinctive vibe to this masterpiece, and a zipper at the front allows fast tucking. These jackets come in many sizes, so its ready to rule over your Winter wardrobe and spice up your appearance for fun nights out!
Many entertainment mediums have served as the main source of inspiration for fashion. A new source introduced by Gen z into the industry is the gaming world. Nowadays, video games and new gadgets cater to a great deal of the interest of young people. Hence, the development of this interest has directed the outfits they choose for their virtual personas. There are a number of chic options available in the fashion world, and they are widely popular among teenagers and school children in the wake of its increasing hype. This type of clothing and accessories is inspired by action figures in the video games, are very practical and stylish, enhances its wearer's functionality throughout the day, and satisfies their requirements throughout the day. With its stunning design and vibrant color, this outerwear can fulfill your craving for fashion while also receiving compliments from your friends at the parties!
Trendiest Top Layer For Gaming
A fan of this outerwear can either style it for a cosplay party at school or a friend's place or wear it for gaming events after-hours. Fashionable you that stands out from the crowd. Show them your unique taste in video games, with your proud display in your appearance. The jacket has become one of the best-selling items since Fallout 76 debuted and has been very popular among the fans. Manufactured by using leather for the outside and this Hand Crafted Blue Leather Jacket is perfect for the casual and smart outfit. The perfection of this masterpiece is visible in the way in which its shape and fit are perfectly visible. A highly fashionable design with a functional and modern touch makes this article highly desirable to younger individuals. Get the most from your gamer friends and participate in them in this jacket. Not only will you make memories, but you will also impress them.