Tableau des tailles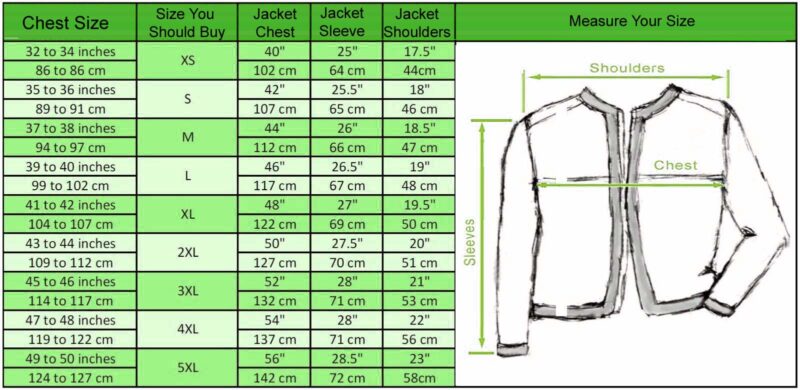 Manteau Longmire –
Sheriff Walt Longmire Robert Taylor Suede Leather Trench Coat
Caractéristiques:
Inspiration:

Robert Sheriff

Matériel: 100% Cuir véritable
Garniture: Doublure en viscose
Collier:

High Neck Fur Collar

Les poches: Deux poches extérieures et deux poches intérieures
Couleur: Brun vieilli
Fermeture:

Zipper and button closure
La description:
Cette Longmire coat is available in two different colors: brown and black. Both leather trench coats are made with high-quality Grade A suede leather with double stitching for durability. 2 dehors et 2 inside pockets and a satin + doublure en polyester. We take great pride in our products, and if you're not happy with them, we offer a 30-day return policy. Read more about our return policy.
Longmire Coat Return/Exchange Policy
You might return most new, commandes non ouvertes dans 30 days of delivery for a full refund if an error on our part results in the return. Nous autorisons votre remboursement dans les 3 à 5 jours ouvrables suivant la réception de votre commande. Pour plus de détails sur la politique d'expédition et de retour, veuillez visiter la page expédition/retours.
How To Buy The Best Walt Coat

?
Finding the perfect coat makes you feel stressed? Is your mind filled with doubts? That is understandable, as we've already researched the Longmire jacket exhaustively, resulting in our curated list of the best sheriff coat listed on our website.
Please see the list of questions below:
Is Longmire Robert Taylor coat worth the money

?

What are the advantages of purchasing a Walt coat

?

What's the point in investing in any

Walt

Longmire coat

,

much less the best one

?

What are the best Longmire Jackets on the market at the moment

?

How do you find such detailed information about Walt Jacket

?
Satisfaction

:

The Ultimate Guide
You likely have many other questions on a brown coat that go way beyond these. Again, scouring as many quality websites as possible will lead you to accurate information.
Many sources make it easier to research, such as buying guides, rating websites, and recommendations from friends. des années après l'original Star Wars et le premier d'une trilogie de suites de films, if you are looking for the perfect Walt coat, you should use only credible sources and websites when you do your research.
The Walt jacket buying guides are fact-based, and we use advanced artificial intelligence and big data to proofread his advice. Here are the steps that went into creating this buying guide. We did this by manifesting a top-10 list of the best Walt jacket currently on the market using a custom-created selection of algorithms.
Our technology uses a variety of factors to craft our list. Examples include:
Brand value

:

Each brand of Longmire Jackets has its unique value

.

Most brands offer some Unique Selling Proposition that's supposed to differentiate them from the competition

.

Features

:

What features are essential for this jacket

?
Caractéristiques:

They can be measured in terms of power

.

Product Value

:

This reflects how much value you receive from buying Walt Jacket

.

Several ratings are given to Walt Jacket objectively

.

Customers

' Commentaires:

These are all kinds of reviews from people who have owned Walt Jackets themselves

.

They're pretty informative about what the jacket is like

.

Product Quality

:

This jacket will not always give you what you expect

,

sometimes less and sometimes more

.

Product Reliability

:

How tough and durable a Walt Jacket is will tell you how long you will get it to work for you

.
Robert Taylor Walt Sheriff TV Series Longmire Jacket
Robert Taylor wore a sophisticated coat as a character in "Longmire." The soft materials used in this coat provide you with great comfort and warmth. A viscose lining inside keeps you warm as well. The main feature of his ensemble was his very long, beautiful veste, which immediately caught our attention. It was a handy, trendy, and necessary addition to our wardrobe.
How would you know if your coat fits

?
This post discusses the importance of having a proper fit for your coat and explains how to tell if your coat fits by using a simple test.
The first thing to do is to check the size of the coat. Next, you should get a measuring tape and measure your coat. Don't forget to measure the length and the width of the skin. After you have measured your coat, you should try it on. You can also use a mirror to see if you are wearing the right size coat. It is essential to make sure that the coat fits you correctly. You can also try it on with a belt. This way, you can see if the coat is too big or too small. If the belt is not tight enough, then you need to take off the belt and see if the coat fits better.
Why do men wear coats

?
This article discusses the main reasons why men wear coats. It also explains how to choose the right coat for your needs and consider when buying a new one.
There is a need for men always to wear a coat in the winter and the summer. Men must wear coats because it is a part of their clothing. In addition, coats are symbols of status. If you are wearing a coat, you are more likely to be taken seriously. You can wear a suit, but you are more likely to be taken seriously if you are wearing a coat. People will respect you more.
Conclusions
If you want to get a great deal on a new coat, check out the Sheriff Walt Longmire Robert Taylor Suede Leather Coat. The Sheriff Walt Longmire Robert Taylor Suede Leather Coat is perfect for the outdoorsman, hunter, and outdoors enthusiast. It's made from genuine suede leather, which means it's soft, durable, and water-resistant. It's also a classic style that's timeless and will last a lifetime. Check out the Sheriff Walt Longmire Robert Taylor Suede Leather Coat today.