Size Chart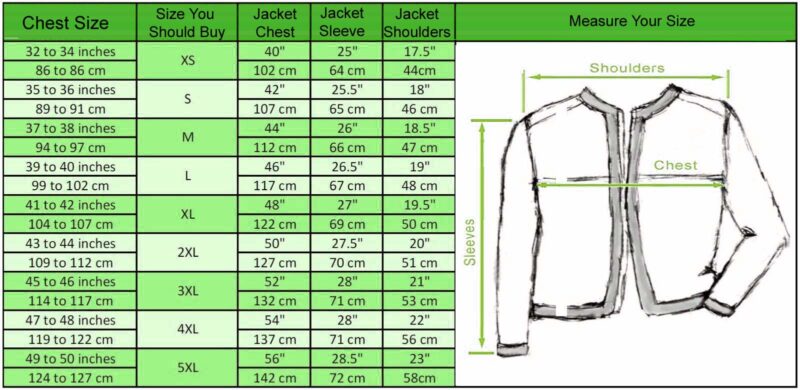 Deadpool 1 Ryan Reynolds Movie Costume Leather Jacket
The Deadpool jacket is a dead ringer for the style Ryan Reynolds wore in the first Deadpool movie. This jacket is perfect for cosplay and everyday wear, featuring high-quality leather construction and a bold color scheme. With adjustable straps and two pockets, you can customize your look to Show off your superhero style with this must-have jacket. With quality craftsmanship and attention to detail, this Deadpool leather jacket is sure to become your favorite for years to come. So why wait? Get yours now and show the world that you're a true fan of the Merc with a Mouth!
Specifications:
Made of Grade A Leather
Viscose Lining Stitched Inside
2 Outside pockets and 2 inside pockets
Dry Clean Only
Benefits and Uniqueness of the Deadpool Jacket
The Deadpool jacket worn by Ryan Reynolds in the movie "Deadpool" perfectly blends style and sophistication. This jacket is made from top grade leather and will last you for years. Features such as its stand-up collar, adjustable cuffs, YKK zipper closure, internal pockets and adjustable waist give it a unique look and feel. It is also perfect for any occasion, whether casual or formal.
This leather jacket will make heads turn wherever you go. Its unique design and quality craftsmanship make it stand out from the crowd. The jacket is available in several sizes and styles to suit any individual's needs. Whether you are looking for a simple leather jacket to complete your casual look or something more stylish to make a statement at an important event, the leather jacket will fit the bill.
This leather jacket is an excellent choice for anyone looking for style and comfort. With its eye-catching design and superior craftsmanship, this jacket will turn heads. Invest in a jacket today and enjoy its quality and beauty for years.
Conclusion:
The Deadpool jacket is an excellent choice for any comic book series or movie fan. It has an eye-catching design and features that make it perfect to wear while showing off your fandom. The premium quality leather provides comfort and durability, ensuring you have a jacket that will last years. This jacket is a timeless piece you can enjoy wearing for years. So, if you're looking for something stylish and comfortable to show your love of the character, this is a perfect choice.
FAQs
Q: Where can I buy a Deadpool jacket?
A: You can purchase an authentic Deadpool leather jacket online from this website. The quality and design of the costume leather jacket are sure to match the movie's look perfectly and come with all the iconic details. With its combination of comfort, style, and design, it's no wonder that this jacket is popular among movie fans.
Q: What material is used in a this jacket?
A: This Jacket is made of high-quality genuine leather, which is very strong and durable. It also features two inside pockets, snap-tab collar and hem, zipper closure, and a full-length front open. All of these features make the jacket comfortable to wear and stylish to look at.
Q: Is a Deadpool jacket suitable for all occasions?
A: Yes! The Deadpool 1 Ryan Reynolds Movie Costume Leather Jacket is suitable for casual outings and formal events.