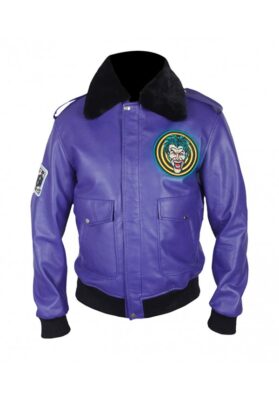 Size Chart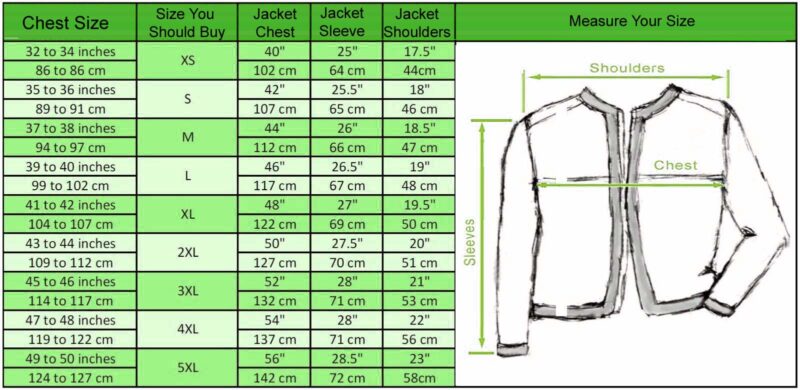 Joker Jacket – Batman Henchman Goon Purple Joker Bomber Jacket
Specifications:
Joker Bomber Grade A Leather Jacket
Viscose Lining Stitched Inside
2 Outside pockets and 2 inside pockets
Dry Clean Only
Description:
This joker jacket is made with high-quality Grade A Leather with double stitching for durability. Satin + polyester lining. Pockets are sewn within this leather jacket to keep your materials safe. It's made of genuine leather with an inner viscose lining. We take great pride in the jacket. If you are not satisfied, you can return them within 30 days of receiving the Tom Cruise jacket; please read the return policy for further details.
Joker Bomber Jacket Return/Exchange Policy
You may return most new, unopened orders within 30 days of delivery for a full refund. We'll also pay the return shipping costs if the return results from our error (you received an incorrect or defective order, etc.). We authorize your refund within 3 to 5 working days of receiving your order back. For more details about shipping and return policy, please visit the shipping/returns page.
Purple Joker Henchman Bomber Jacket
Each joker purple jacket has been carefully handcrafted from top-quality lightweight faux leather. The Batman jacket comes in an incredible purple color that gives it a classic and edgy look. A branded YKK zipper is used to close the 1989 joker purple jacket with a shirt-style shearling collar and closure. There is a soft viscose lining inside the jacket lining for warmth and comfort. The Joker Goon Jacket sleeves are long and fitted with rib knitted cuffs and knitted shoulder epaulets. The jacket has a joker patch at the chest. The side waist flapped pockets on the 1989 joker jacket make it convenient for keeping stuff. The purple goon jacket that is being imitated is durable and has high-quality stitching, suitable for long-term wear. The jacket is ideal for cosplay and Halloween.
Batman took The Joker on a pursuit in Gotham Cathedral, but this Goon was sitting in a tower to deflect Batman's attacks. When he joined a fight with Batman, he took the Dark Knight by surprise and beat him unconscious with a sneak attack, forcing him through a wooden wall and employing steel stuff and ropes to whip him. The Goon, after Batman left, examined the bell tower to see where he might have gone. The Goon saw the Batman sitting upon one of the bells and saw that he was not there. Despite Batman's attempt to attack the Goon, the attacker succeeded in getting him nearly in midair and continuing to force him into the staircase. He continued the attack, beating Batman violently, ending in the Goon squeezing him through a hole beneath the bell. Goon examined his body to see if he had fallen down a ravine but was shocked when Batman rocked his legs out into the air and clenched them around Goon's head. Batman carelessly, frightened, and thrown down the Cathedral to his death; a Goon was drawn into the bell.
Advantages and disadvantages of purple joker henchman bomber jacket
This post discusses various advantages and disadvantages of the purple joker henchman bomber jacket. We also provide you with detailed information on this product that will help you decide when buying it.
This is a good choice if you want a stylish yet functional jacket. It is an excellent choice if you want a jacket that is stylish and practical. This is a well-made jacket. It has a great feel to it. It is comfortable to wear. It is durable and easy to care for. It is a perfect choice if you want an easy jacket to clean and maintain. The fabric is soft and light. It is comfortable and breathable. It can wear it in a variety of ways. It can be worn as a casual jacket, a work jacket, or even a dress jacket. You can wear it with jeans or slacks. You can wear it with shorts or skirts. It is a good choice for you if you want a jacket that is stylish, functional, and easy to care for.